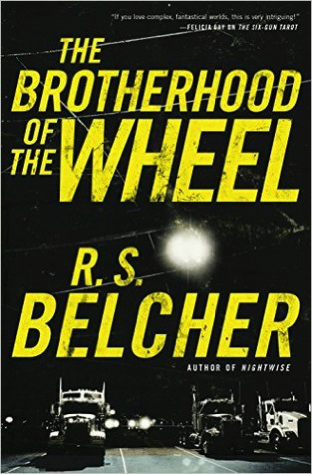 Four stars.
R.S. Belcher has now been added to my list of Authors I Really Like.
What I Liked
Characters
Jimmie Aussapile is a great main character. I liked him because he doesn't have any special powers: he's just a man doing a job he knows needs to be done, at risk to himself and his family. Fighting evil might save the world, but it's trucking that pays the mortgage. He's also not some young, handsome hunk: he's married with a loving wife he actually talks to, a daughter and a baby on the way. So, in all ways, not your typical urban fantasy MC. 
Secondary characters Heck (Hector), Lovina and Max were slightly less well-drawn, but still interesting. There are hints that all of them have depths currently unplumbed – future books will presumably flesh out all three of them.
Plot
To be fair, the plot wasn't what you might call terribly complicated. However, it moved along with sufficient verve, and had enough interesting ideas in it, that I didn't care.
Atmosphere
This is dark urban fantasy! It will probably appeal to fans of Jim Butcher's Dresden Files and Craig Schaefer's Daniel Faust and Harmony Black books.
Conclusion
Brotherhood of the Wheel didn't quite make it to five stars for me, but it's a very solid four. I'll definitely be reading more of Belcher's books; the next in this series isn't out yet (tentatively titled King of the Road) but he has others, and I shall hunt them down.