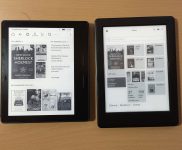 It's official. I have no self-control. Breaking strain of a KitKat.
I have bought a Kindle. Not just any Kindle. The most expensive Kindle on the market. The Kindle I said I would definitely never, not ever, buy. Because it was far too expensive to justify. And stuff.
In my defence, it was my birthday, and the far-too-expensive Kindle was partially paid for by birthday money from my husband and my parents, and birthday money – should you be lucky enough to be financially stable – is meant for buying frivolous things that you can't otherwise justify (like Kindles), not ordinary stuff like socks.
I always said, I would never have a Kindle. I was a Kobo girl. I don't have anything against Amazon (how could I, when Amazon made it viable to be an indie author?) but Kindles never tempted me – they were too big, too clunky, especially compared to my three Kobos. The big Kobo is waterproof; the little Kobo has a 5″ screen; and the Kobo that is just right is a 6″-screened piece of elegance, far nicer than any Kindle I'd seen. And half the price.
Up until now.
Up until Amazon brought out a Kindle that is more than 30g lighter than my late, lamented Sony PRS-T1.
I'm a gadget girl. Other women, or so I read, love buying clothes and shoes. I can be in and out of a clothes shop in under 30 seconds, trailing my poor husband like the tail of a kite: "Do keep up!" On the other hand, when he sneaked off to PC World without me, the cad, we had Words. Not that I wanted anything there in particular; I just wanted to look. So I completely understand the desire to spend half the morning looking at clothes and then not buying any. I just do it with electronics.
But… Kindle.
First Impressions
I bought the WiFi only version; not only am I unlikely to be so desperate for reading matter that I will need to buy a book where there is no WiFi, but in the unlikely event that that happens, I can use the personal hotspot function on my iPhone to provide WiFi. So, no need to pay the extra £80 or however much it is to get the 3G version.
It is slightly shorter than my Kobo Glo HD, and slightly wider, so it's kind of square. There's a wider non-screen part on one side, for holding, and that's where the buttons are.
The case, which also contains half the battery, is a nice bit of kit. It just clicks into place, guided by magnets. There's no fiddling around trying to get bits lined up – it just finds its own way. There is also no audible "click". Very nice. There are also magnets in the flippy part of the case, so that when you fold it back underneath the Kindle for one-handed reading with the case on, it sticks there.
Setting Up
Setting up was very easy. It arrived already knowing who I was, so it connected to my Amazon account straight out of the box, as soon as I input the house WiFi password. It automatically connected to Goodreads too, but you can disconnect it, or change the account to which it connects, in the Settings (settings>reading options>social networks).
You can also connect your Kindle to your Twitter and/or Facebook accounts, which I have not done.
The Reading Experience
The on-off button is at the top, with the micro-USB port, if you hold it in your right hand. If you hold it in your left, they're at the bottom. A nice touch is that the Kindle detects which way around it is, and flips the screen so that you can use it right-handed or left-handed. The buttons also flip, so the top button is always page-forward, and the bottom is always page-back. However, if you prefer, you can go into "settings" and swap them over so that the top button is "back" and the bottom one is "forward". I've done that, because I have small hands and I had to stretch slightly for my thumb to hit the top button.
Comparison to my Kobo Glo HD
Neutral
The first thing I noticed is that the Kindle doesn't have a traditional bezel – the reading screen is not recessed. It's flat, with a sort of "bumper" around the very edge of the device. So, on the one hand, crumbs won't get stuck on the edge of the reading screen… on the other, they'll get stuck against the bumper instead. I do like the flat screen of the Kindle – it looks so much smarter and more modern – but there is still that crumb-trapping potential, so I'll mark it as "neutral".
The Kindle has two buttons for page turns; I never missed page turn buttons on my Kobo – but these buttons are nicely placed for one-handed reading.  I think I might mostly use the buttons, but, again, I was always perfectly happy with my no-button-touch-screen Kobo.
Strangely, without the light on, the white screen background on the Kobo is slightly whiter than than on the Kindle. But with the light on full brightness, the Kindle's contrast is better than the Kobo's. So, the Kindle screen appears to go from "not as good as the Kobo" to "better than the Kobo" depending on screen brightness. I always set my Kobo's light at 9%, but the Kindle's light needs to be set higher.
Kindle Wins
The Kindle Oasis is a pretty, pretty thing. It makes my poor Kobo Glo HD look thick and clunky in comparison.
Speed and responsiveness. I think the Kindle wins here. Mind you, I never felt that my Kobo was slow – but the Kindle just seems to be that bit snappier.
The Kindle is lighter when held without the case, and I can feel the difference. I can imagine that long periods of reading will be far more comfortable with the Kindle. This is possibly not just to do with the absolute weight – because the Kindle is only about 50g lighter than the Kobo (although that does, admittedly, work out at the Kindle being only 72% of the weight of the Kobo) – but also the distribution of the weight. As most of the weight of the Kindle is in the side closest to the hand, it feels even lighter than it is (law of levers, principle of moments, etc).
Integration with Goodreads. This is probably not an issue unless you actually use Goodreads. I do. So I'm thinking that this might be a major advantage for me. Let's face it – we're all a little bit lazy (some of us are a lot lazy). If you have to change to a different device to post that really great quote, you just don't bother.
Amazon store. We all know that Amazon has more choice, at lower prices, than Kobo. Plus, I like Amazon's store better.
Kindle app integration. This is one of those little luxuries that I never missed, reading on a Kindle, but I'm probably going to kind of like. There are those moments when you don't have your primary reader – and if you read a book you bought from Amazon, it will sync across your devices. Not like my life is ruined if I have to go and find the page – but it's nice not to have to.
Kobo Wins
The Kobo has many more fonts, and much more choice when it comes to setting up your font size and line spacing exactly how you want them. Compared to the Kobo, the Kindle is very limited indeed.
Kobo allows you to customise your homepage much more: it has a series of tiles which you can dismiss or move around. You get tiles for the last couple of books you've been reading, the last few books you added, and so forth. This is a better layout, I think, than Kindle, which uses a third of the screen real estate for recommendations. Kindle gives you an option to disable the home screen completely, so you just get your list of books. However, I quite like having the book I'm currently reading front-and-centre, and a link to my Goodreads want-t0-read list. But if I don't want recommendations, I have to go without the other features of  the home page.
Kindle does not have a dedicated space for your currently-reading book: the big slot that looks as if it ought to be actually changes to whatever book you did something to last – whether that is reading it, or adding it, or whatever. Unlike Kobo, which does have a dedicated space for the last two or three books you were reading.
Kobo seems to be better at side-loading books. I have a lot of non-Amazon books, which I side-load with Calibre. When loading hundreds of books onto my Kobo (as I do every time I get a new device), the Kobo has taken several minutes to digest them, but not as long as the Kindle. The Kindle looks like everything is fine, but when you try to search for the new books shows "not yet indexed". Looking on the internet, indexing sometimes takes hours or even days. 
Verdict
I am going to keep the Kindle, and it will become my primary reading device (and so I should hope, at that price).
For me, this was my first Kindle, so I get the "Kindle experience" for the first time, and I would not have bought the older Kindles: they are all bigger and heavier than my Kobo. The lightness of the Oasis was a major factor for me.
However, many of the things that push me in that direction are not completely related to the Kindle Oasis itself – more to its essential Kindleness: the integration with Goodreads, the link with the Kindle apps. I do really like the lightness of the Oasis, and its flat screen, but my Kobo was perfectly good. More than good – the Kobo is a very nice piece of kit in its own right.
Moreover, the Kobo has a nicer and more useful homepage, as it always shows the book you last opened, and you can rearrange it pretty much how you want.
So I'd say… unless you want an Oasis just because you really want the best Kindle out there, it's a lovely piece of kit but ultimately not worth the price as a reader. But something that many reviewers seem to forget is that practical utility is only part of the reason why people buy a product. It's like cars: a Toyota Aygo and a Porsche Boxer are both relatively small cars that will get you from A to B. But people still buy Porsches, because they don't just want sensible transport – they want a luxury experience. The Oasis is like the Porsche of readers: expensive and luxurious, but if all you want is something to allow you to read ebooks, not the one to go for. If you're a serious reader, and you want the luxury, and you're more concerned about the physical form factor than having the ability to set up your text exactly how you want it, then the Oasis will give you what you want.