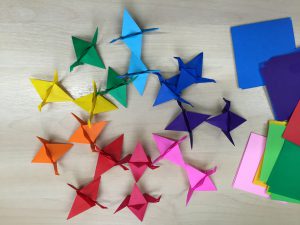 Someone at work is getting married, and they're going to Japan for their honeymoon. Someone else decided it would be a brilliant idea to give him 1000 origami cranes. It's a Japanese wedding tradition that is supposed to bring good luck to the new couple.
So a box of paper and an instruction sheet appeared in the tea-room, and everyone who stands still long enough is being press-ganged into crane-making. Even me, and I don't know if I'd recognise the chap if I met him!
I am, however, the only person who has made cranes before. I used to make them when I was a kid – origami was a minor hobby. Over the last few (!) years, though, origami has fallen by the wayside. Life just got in the way – one thing, then another, then another.
Making cranes (I think I've made about fifty now) has reminded me how much I used to enjoy origami. It's too easy to allow life to get away from you, and then you realise that you spend all your time chasing after things you don't really want, and not spending any time on things you enjoy. You always promise yourself that you'll get around to it – tomorrow, maybe.
So I'm going to start doing origami again, see how much I remember. I'll keep you posted on how I do.