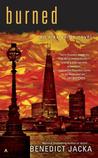 Burned by Benedict Jacka
My rating: 3 of 5 stars
Once again, Alex Verus is up against it. He's been sentenced to death, and has only a week in which to get the sentence reversed. And the sentence also applies to his "dependants" – Luna, Variam and Anne.
The book consists mostly of Alex trying to win votes to get the sentence reversed, and to remove the three young people from the list of his dependants so that they escape being collateral damage.
This was a quick read, and quite enjoyable. I do like the way Jacka has written Alex as someone who is not traditionally powerful, in the sense of being able to blow things up, but can still be very dangerous simply because of his ability to know what comes next. It's an interesting demonstration of how power isn't always synonymous with physical strength or force.
I also enjoyed the bits of book where Anne appeared – she's my favourite character; she tries hard to be ethical and do the right thing – even when all she gets is hatred and suspicion. In some ways, I think she's a more complex character than Alex. For me, she certainly more sympathetic. I could imagine going out for the evening with Anne and enjoying it.
On the other hand…
As another reviewer has pointed out, this whole book could have been condensed into a couple of chapters stuck on the front of the next book.
There are some substantial changes all around, so I do wonder if this book functions as a hiatus in the overarching plot to allow Jacka to move all his characters around into new positions for the next phase. It would certainly explain a lot.
Overall, although I think this is the weakest book in the series so far, there is still enough in it to make an enjoyable read, provided you are already invested in the series. Hopefully, the next book will see the plot back on track.
And the reason why I think Burned is the weakest in the series follows, but it's spoilery so don't scroll down if you don't like spoilers.
…
…
…
…
…
…
…
…
[Alex spends most of the book trying to avoid the death sentence and dealing with various other threats, and then when his scheme fails… deus ex machina steps in and saves his life (but gives him another problem). All of Alex's efforts are ultimately for nothing: he could have more usefully spent the book holed up in his farmhouse in Wales catching up on his reading.
I am also getting rather tired of everybody lining up to kill Alex. I mean, why? The guy just runs a magic shop. He's hardly creating his own power bloc, so why are all these people – Light and Dark alike – so obsessed with him? The amount of time and resources being thrown at the Kill Alex Verus project is getting hard to believe without some indication of why all of these people feel it's so important to either kill him or recruit him, rather than just ignore him. And where are the decent mages? Statistically speaking, Alex should have come across a few more of them who are not psychotic and/or amoral. The longer this series goes on, the more it becomes difficult to believe that Alex hasn't managed to acquire more allies/friends.