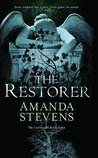 The Restorer by Amanda Stevens
My rating: 4 of 5 stars
What I Liked
Well, I burned through this in about 24 hours. That should tell you pretty much all you need to know. However…
Amelia. Amelia is not your usual urban fantasy/horror heroine. So far, she doesn't seem to have mad martial arts skills, she doesn't have some amazing world-destroying power, and she isn't drop-dead gorgeous (but insecure). Nor does she have a string of alpha-males panting after her. She's a pretty ordinary woman running her own business – except for her ability to see ghosts.
This ghost-seeing thing was something else I liked about this book/world. It's not what you might call a power – more like a problem. If the ghosts know you can see them, they'll be able to fasten on you and suck your life energy away. Cool stuff. So Amelia spends her life avoiding ghosts, and the people they haunt – hence the job that means she can spend a lot of time on hallowed ground, where she's safe from ghosts.
I liked Amelia for her very ordinariness; it gave the story a scarier feel, I think. There wasn't that comfortable disconnect that comes from reading about a character who's so gorgeous and powerful that you can't quite believe in them.
There's obviously some background involved that we don't get – maybe that's for a later book.
I also liked that Amelia has a trade, and we get a few little details about what cemetery restoration involves. What can I say? I like collecting odd little bits of knowledge.
The World. Interestingly, this is pretty much the real world, except for the existence of ghosts (and maybe some other stuff). But – at least as far as has been revealed – you're not tripping over werewolves and vampires everywhere you go. This is also a pleasant change (not that I've anything against werewolves and vampires, but it's nice to have a change of pace every now and then).
It's pretty obvious that there are things Amelia doesn't know about – hopefully, we'll find out more in later books.
The feel of this book is different from most urban fantasy – it's quieter and creepier, and I'd put it somewhere between urban fantasy and horror.
What I Could Have Done Without
That thing where someone says "I'm going to tell you there's a secret, but I'm not going to tell you what it is, or I'm going to be interrupted before I tell you." It's so… done to death.
Other
I did spot who the murderer was quite early on – although not why.
Conclusion
A solid four-star read; it only doesn't get five stars because it didn't have that extra special sort of something. However, I'm definitely going to read the others in the series, and can recommend this unreservedly for anyone who wants UF/horror that works on the creep-factor rather than just splashing blood about.