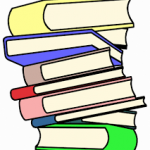 I spend more time reading than I probably should. There are many other things I ought to be doing: laundry, ironing, writing… I console myself with the thought that somebody-or-other said that to be good at writing, you should spend a lot of time reading.
This month, I haven't been having much luck with books. I've started reading several, and ended up just not feeling the love. One book was so not-feeling-the-love that I gave up completely after 15% and resolved never to read anything by that author again (at least, until someone tells me he's stopped doing the really annoying thing he'd started doing that has made me abandon a series six books in). Another, I kind of enjoyed, but couldn't get into, and found myself distracted by something else.
Luckily, someone recommended that I read Radiance, by Grace Draven. I burned through that in a day or so and reviewed it. It was like being thrown a lifeline: suddenly, I was reading something that I enjoyed. All my mind was on the characters, and their predicament(s), not on how much left there was in the book, and how long it was going to take, and whether I really ought to go and do some ironing instead. And when the ironing starts sounding like a good bet, you know you're not enjoying the book.
It did, however, make me start thinking about what makes a good story for me, personally.
Characters. Personally, I don't like characters who are too nice. Maybe that's because I'm just not a very nice person myself, but give me a character who's at least a bit grey. I particularly loathe good, self-sacrificing heroines. A heroine I particularly like at the moment is Kim Harrison's Peri Reed: Peri is a materialist. She likes expensive cars and expensive tech. She likes having a job that gives her power and influence, and she's not into self-sacrifice. Personally, I think we have a few too many heroines who – regardless of how 'kick ass' they're marketed – still go all goody-two-shoes and self-sacrificing at the drop of a hat. I think it's because there's still a lot of social conditioning over what 'nice girls' do and don't do – and admitting to materialistic impulses (except when it comes to clothes and shoes) is a no-no.
Relationships. I like a romance story every now and then, but that's not really what I'm talking about. One author I'm continually banging on about how brilliant he is, is Jim Butcher. His Dresden Files is one series I'd hate to give up – and one of the reasons the series is so good is because of the relationships Harry Dresden has with the supporting characters. The poor guy almost never gets laid, but Butcher has surrounded his MC with a circle of friends, enemies, acquaintances, and others who are all fully fleshed-out characters in their own right. This makes the stories much more  complex and multi-layered (insofar as a series based on noir detective fiction can be complex and multilayered). Benedict Jacka's Alex Verus series is touted as the London equivalent of the Dresden Files, and I can see why. But – despite the fact that Alex Verus is English – I still much prefer Butcher's books. The reason, I think, is that Alex, despite several books in the series, is pretty much still a lone wolf. It limits the stories, and besides, I find myself thinking that anybody with any sense who gets attacked as often as Alex Verus does should start building his own power bloc out of self-preservation if nothing else. But the lack of people in Alex's life really makes the books feel a bit flat.
Emotional connection. I like a book where I feel I know the main character – their personality, their motivations. I abandoned a very well-regarded book recently because I just couldn't connect to the main character. It was very well written and everything, and I could see why it gets such good reviews – but I just found myself not caring what happened. Book abandoned. On the other hand, Jim Butcher (again!) is great at emotional connection. Harry Dresden is definitely a bit of a prat at times (a lot of times in the earlier books!) but he's very easy to make a connection with, even if you'd like that connection to be your fist and his teeth. Crucially, though, Butcher himself manages to write the books through Harry's eyes, and still show Harry as being a bit of a prat whose prattishness makes him lose out to the less testosterone-poisoned persons around him. You may sometimes want to punch Harry, but you always care what happens to him.
Plot. To be fair, this is a bit of a strange one. For me, I think the characters are the most important thing. Adrian Tchaikovsky's Guns of the Dawn doesn't have what I'd call a plot so much as it has a character arc, but I still really enjoyed the book. But whatever it is, it has to be coherent, and it has to make sense. If people do things, those things should be believable (bearing in mind that people are not always logical in real life). Also, don't dangle things in front of the reader then fail to follow up. One of the things I disliked in The Late Scholar was the mention of a couple of land law/tax concepts that made me think there was going to be a really cool land-law/tax mystery. Then there just wasn't. Those mentions were just left dangling, as if the author had thought of doing a cool land-law-tax mystery, then found the research to be too difficult/boring and given up.
Meta-plot. I've come to the conclusion that there are two types of series: ones with a metaplot and ones without. The Dresden Files is one of those with a metaplot. Every book (after maybe the first one or two) advance the metaplot to some kind of conclusion that Butcher already has planned. One of the things that make the Dresden Files so brilliant is that you can see that Butcher has carefully plotted the route to the final destination. You read one of the later books, and you can see ideas and plot points that were carefully seeded several books earlier; seemingly minor events suddenly turn out to have been important. The alternative is the non-metaplot type, where the hero's situation generally does a sort of reset-to-start between books: the classic example is the noir detective who is always poor, always on the brink of bankruptcy, and always single – if he ever gets the girl, she leaves him or dies. Both – metaplot or no metaplot – are valid options, although I prefer the former. However, if you are going to have a metaplot, you need to advance it. You can have a book where the metaplot takes a back seat (or appears to), but in general, each book should take the plot a measurable step towards resolution. Otherwise, readers start getting impatient and wondering what the hell is going on. Likewise, it's useful if your readers can tell what the metaplot is. If you just appear to have all this stuff going on, people start to get confused.
Not stopping the story to add a sex scene/sermon. This is a deal-breaker for me. Sex scenes irritate me much less than being preached at, whatever that says about me. But if you're going to add a sex scene, make it mean something. Otherwise, I will just skip it (because unless I'm in the mood for a sex scene, it will bore me), and you wrote all those words for nothing. And other readers might end up skipping the whole book, or even all your books. People are funny about sex that way. However, preaching is to me what explicit BDSM-orgy-erotica is to the Clean Romance reading market. If I detect it, not only will I skip that part, I will skip the entire rest of the book, rest of the series, and quite possibly the rest of the author's work for the rest of my life. One of my favourite authors is Terry Pratchett, and at his height, he was a master at including political and social concepts in his books. But – at his height (he got a bit obvious later on) – he never preached. The message came through the plot, and through the characters' actions, and was far more powerful for it. I cry every time I read the passage in Going Postal about John Dearheart's name being kept alive in the overhead. I've never forgotten the way he laid out the unpleasantness of Jingoism and false nationalism in Jingo. Nor his skewering of racism in Thud! and, to a lesser extent, Snuff. Night Watch deals with the revolutions, and the hypocrisy of revolutionaries who find that they have not only the wrong kind of government, but also the wrong kind of People. I could go on and on about the important political and social concepts dealt with in Pratchett's Discworld books. Many authors who wish to make a social or political point should go and read Pratchett, and realise that the best way to make an impression on your readers is not to harangue them, or preach at them, but instead to show them – through the actions and reactions of your characters – what you mean, and why it's important.
So, there we go. I'm going to go back to reading The Death of the Necromancer, which I first read years ago. I just found out it was really cheap on Amazon Kindle, so I've got myself a Kindle copy. And it's just as good now as it was then.
What do you think?